Veendam - The municipalities in East Groningen, The Netherlands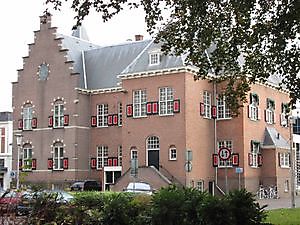 Veendam has been an important central municipality in East Groningen for years, both economically and culturally. Sport also plays an important role in the municipality. The stadium on the Langeleegte is a household name in national football.


The center of the city of Veendam has undergone a metamorphosis. The centrally located Museumplein is a feast for the eyes through a combination of historic facades, cozy cafes and the new modern Van Beresteijn theatre. On the square itself, the inhabitants like to come together to have a drink on one of the terraces or to visit the large weekly market.


In the Veenkolonial Museum, various exhibitions tell the story of the region of Aletta Jacobs and Anthony Winkler Prins. Veendam played an important role in the extraction of the peat and the transport of peat. The deeps (canals) along with the various mansions and trading houses from this time still form the main structure of the street plan. Veendam was also important for shipping: there was even a nautical school located there.
Employment was given a new impulse in the 1970s by the arrival of the RDW Rijksdienst in Veendam.


Nearly 28,000 people live in the municipality. In the surrounding centers it is pleasant to live on spacious lots with good educational facilities nearby. Secondary education is also well represented. There is also a music dance and theater school for young people and adults. Veendam is easily accessible by car, boat, bus and rail. Recently there is a good train connection between the city of Groningen and Veendam.


Sights

In the municipality of Veendam it is pleasant shopping due to the large and diverse range of shops. A day of shopping can easily be alternated with a day of culture sniffing in the museums or the new Van Beresteijn theatre. Quality films are regularly shown in the indoor art cinema. Close to Veendam you can play golf on the 18-hole golf course De Compagnie. Gourmets can indulge themselves in the various special restaurants, spread across the municipality. In the tea house De Kainstobbe, a high tea is quite an experience, in the converted farm of the owners. From the new station of Veendam you can take a ride through the region with the steam train of the S.T.A.R.
--- advertentie ---
Last added photos Municipality Veendam
See all photos of the municipality Municipality Veendam (42 totaal)
Make a contribution
On the website Oostgrunn.nl anyone can contribute to improve the image of East Groningen and to let everybody know the beauties of the area. Visitors can respond to all subjects, give a review and share experiences. Also, everyone can vote on our poll, add photos, promote events, sports clubs and write sport competition results. Give a good reason yourself why East Groningen is a beautiful region. We ask the cooperation of all residents and visitors of East Groningen to help us with the promotion of this beautiful region.