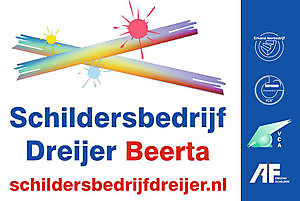 Schildersbedrijf Dreijer VOF
Torenstraat 18
9686 SN Beerta
Municipality Oldambt
Telephone: 0597-331305
E-mail: Show email address
Ga naar de website: www.schildersbedrijfdreijer.nl
Eerlijk Vakmanschap!

Zoekt u een vakschilder ?

Voor grote, kleine of specialistische werkzaamheden:

- Uw woning of bedrijfspand mag strak in de lak gezet worden.
- Een plafondornament eist vakkundige reparatie.
- De woonkamer voorzien van een frisse kleur.

Een kleine of grote verbouwing verdient de beste afwerking.

Meer dan schilderen alleen...
Schilderen, wandafwerking en glaszetten is ons vak. Bovendien zijn ook houtrotreparaties, kleine timmerwerken of glas-in-loodrestauraties bij ons in vakbekwame handen. En dat is erg handig!

Want het houtrot in uw kozijnen repareren wij direct, wij schilderen en herstellen uw deur en hangen 'm bovendien weer waterpas in het kozijn. Zelfs kleine timmerwerken mag u aan ons overlaten. We pakken alles in één keer aan en u hoeft niet te wachten op de timmerman, want wij kunnen direct verder met ons schilderwerk.
15x reviewed





Rate by clicking on the stars or write a review here





Vakwerk
Leo Hoogma, Beerta
De vakmensen van Dreijer hebben bij ons prachtig werk afgeleverd. De kozijnen zijn helemaal houtrot vrij en de slechte delen geheel vervangen. Maatwerk waar vakmanschap bij komt kijken. Strak schilderwerk, echt een meerwaarde.
---
Make a contribution
On the website Oostgrunn.nl anyone can contribute to improve the image of East Groningen and to let everybody know the beauties of the area. Visitors can respond to all subjects, give a review and share experiences. Also, everyone can vote on our poll, add photos, promote events, sports clubs and write sport competition results. Give a good reason yourself why East Groningen is a beautiful region. We ask the cooperation of all residents and visitors of East Groningen to help us with the promotion of this beautiful region.