Stadskanaal - The municipalities in East Groningen, The Netherlands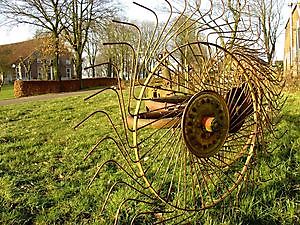 The location of the municipality of Stadskanaal, on the border of Groningen and Drenthe, has partly determined the identity of this surprising part of the Netherlands. Stadskanaal played an important role as a trading center in the reclamation of the peat. The distinctive (City) Canal was dug for this economic purpose. The outer area is naturally formed and used to consist of swamps and rivers. Today, gentle slopes alternate with rougher heathland and ancient forests in the Westerwolde nature reserve.


Culturally, Stadskanaal has put itself on the map by investing in the Geert Teis theater, a stage on the town square and promotion of various museums and galleries in the municipality. The STAR museum railway has also given an impulse to tourism in the municipality. In addition, the level of facilities for the 33,000 inhabitants is high. With an active middle class, solid public transport, a favorable business climate and good educational facilities, Stadskanaal has grown into a strong core municipality.


Sights
Discover perhaps the most underrated nature reserve in the Netherlands: Westerwolde. Stadskanaal is a good base. There are plenty of campsites, hotels and B&Bs in the municipality. You can stay overnight in a unique and different way in an old wagon of the railway STAR, which can be found at the station in Stadskanaal.


A day trip on the steam train is an experience for young and old.
Discover the area on foot and by bike, of course, but also by boat or on horseback. Or do you prefer it from a hot air balloon? Westerwolde Ballooning puts Stadskanaal in a surprisingly different perspective. A day of shopping is certainly an option in the extensive center in Stadskanaal.
--- advertentie ---
Last added photos Municipality Stadskanaal
See all photos of the municipality Municipality Stadskanaal (219 totaal)
Make a contribution
On the website Oostgrunn.nl anyone can contribute to improve the image of East Groningen and to let everybody know the beauties of the area. Visitors can respond to all subjects, give a review and share experiences. Also, everyone can vote on our poll, add photos, promote events, sports clubs and write sport competition results. Give a good reason yourself why East Groningen is a beautiful region. We ask the cooperation of all residents and visitors of East Groningen to help us with the promotion of this beautiful region.