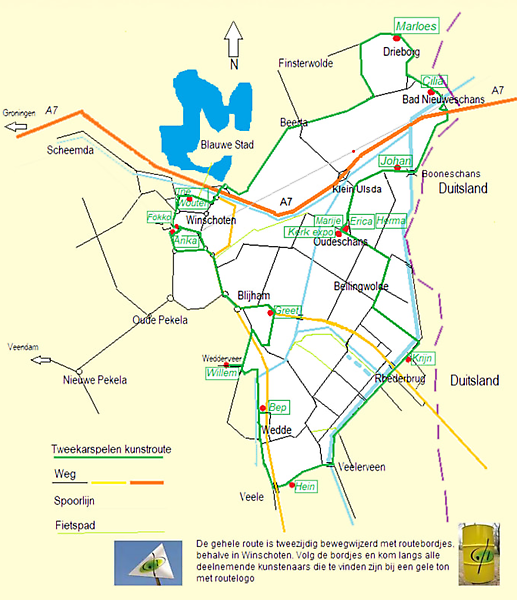 Tweekarspelen Kunstroute
Wanneer?

Van 25 March tot 2 April 2023

Waar?

Garnizoenskerk Oudeschans en diverse ateliers in Oost Groningen
Voorstraat 33
Oudeschans, Westerwolde

Start

11:00 u

End

17:00 u
Ga naar de website: www.tweekarspelenkunstroute.nl
De Tweekarspelen Kunstroute is een kunstroute in Oost-Groningen die leidt langs diverse ateliers van bevlogen kunstenaars in Bad Nieuweschans, Bellingwolde, Blijham, Drieborg, Oudeschans, Veele, Wedde, Wedderveer en Winschoten.

De overzichtsexpositie is te zien in de Garnizoenskerk in Oudeschans. Schilderijen, beelden en objecten zijn te zien tijdens de volgende datums:
25 maart
26 maart
1 april
2 april
De openingstijden zijn van 11.00 tot 17.00 uur.

Deze kunstroute word mede mogelijk gemaakt door de gemeentes Westerwolde en Oldambt.

U bent allen van harte welkom!!
--- advertentie ---
Komende evenementen
Make a contribution
On the website Oostgrunn.nl anyone can contribute to improve the image of East Groningen and to let everybody know the beauties of the area. Visitors can respond to all subjects, give a review and share experiences. Also, everyone can vote on our poll, add photos, promote events, sports clubs and write sport competition results. Give a good reason yourself why East Groningen is a beautiful region. We ask the cooperation of all residents and visitors of East Groningen to help us with the promotion of this beautiful region.