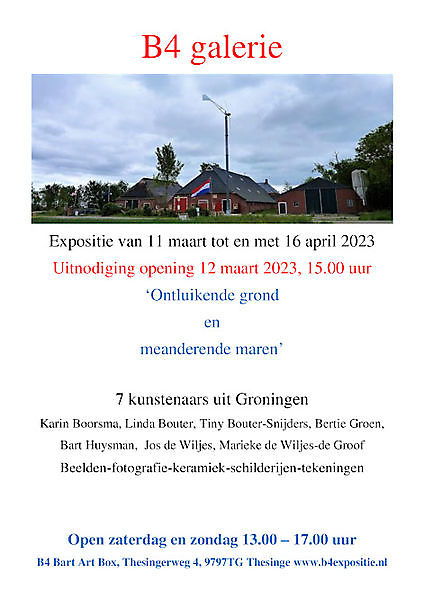 'Ontluikende grond en meanderende maren'
Wanneer?

Van 11 March tot 16 April 2023

Waar?

Galerie B4
Thesingerweg 4
Groningen, Andere gemeente

Start

13:00 u

End

17:00 u
Ga naar de website: www.b4expositie.nl
De expositie 'Ontluikende grond en meanderende maren' vindt plaats in de magnifieke Grote Zaal en op de Vide van B4 galerie, te zien in Sint Annen bij Thesinge. Deze is te bezoeken tot 16 april 2023.

Wat is er te zien?
Kunstenaars Karin Boorsma, Linda Bouter, Tiny Bouter-Snijders, Bertie Groen, Bart Huysman, Jos de Wiljes, Marieke de Wiljes- de Groof hebben samen een indrukwekkende, kleurrijke, verhalende en sprookjesachtige sfeer weten te scheppen. Met hun beelden, fotografie, keramiek, opstellingen en schilderijen. Open zaterdag en zondag 13 - 17 uur. B4, Thesingerweg 4, 9797TG Thesinge.

Kijk ook op de website www.b4expositie.nl.
--- advertentie ---
Komende evenementen
Make a contribution
On the website Oostgrunn.nl anyone can contribute to improve the image of East Groningen and to let everybody know the beauties of the area. Visitors can respond to all subjects, give a review and share experiences. Also, everyone can vote on our poll, add photos, promote events, sports clubs and write sport competition results. Give a good reason yourself why East Groningen is a beautiful region. We ask the cooperation of all residents and visitors of East Groningen to help us with the promotion of this beautiful region.