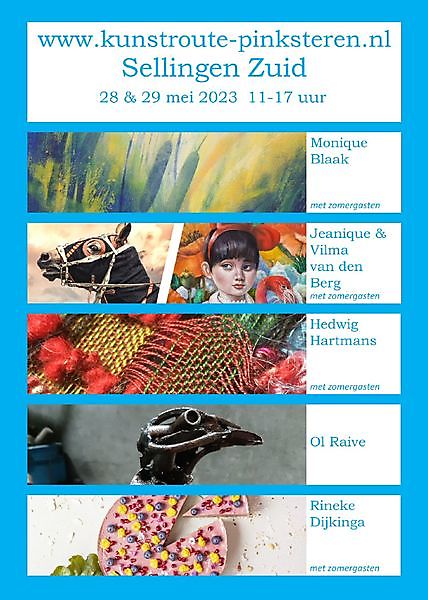 Kunstroute Pinksteren Sellingen Zuid
Dit evenement heeft al plaats gevonden!!
Wanneer?

Van 28 tot 29 May 2023

Waar?

SellingenZuid
Borgerschapenweg 2
Sellingen, Westerwolde

Start

11:00 u

End

17:00 u
Ga naar de website: www.kunstroute-pinksteren.nl
Beide Pinksterdagen kun je genieten van de leuke mooie en gezellige kunstroute. Vijf mooie locaties openen hun deuren en tuinen voor het publiek. Wij zijn een actief buurtje in Sellingen Zuid. De kunst verbindt ons hier maar ook het landelijk wonen, tuinieren, de moestuin, lekker eten en drinken.
Zowel met de auto, op de fiets of wandelend goed te bereiken.
--- advertentie ---
Komende evenementen
Make a contribution
On the website Oostgrunn.nl anyone can contribute to improve the image of East Groningen and to let everybody know the beauties of the area. Visitors can respond to all subjects, give a review and share experiences. Also, everyone can vote on our poll, add photos, promote events, sports clubs and write sport competition results. Give a good reason yourself why East Groningen is a beautiful region. We ask the cooperation of all residents and visitors of East Groningen to help us with the promotion of this beautiful region.