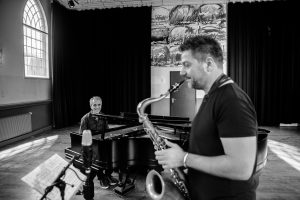 Jazz door Jeroen van Vliet en Mete Erker
Dit evenement heeft al plaats gevonden!!
Wanneer?

26 May 2019

Waar?

Waarkunst
Hoofdweg 1
't Waar, Oldambt

Start

16:00 u

End

17:30 u

Presale from

10 December -0001
Ga naar de website: www.waarkunst.nl
De nederlandse saxofonist Mete Erker en pianist Jeroen van Vliet dele nal dertig jaar het podium. Dit vieren zij in 2019 met de release van hun nieuwe album en met een concertserie. Ze spelen hyperinteractieve, poëtische muziek, spannende improvisaties en mooie liedjes.
Make a contribution
On the website Oostgrunn.nl anyone can contribute to improve the image of East Groningen and to let everybody know the beauties of the area. Visitors can respond to all subjects, give a review and share experiences. Also, everyone can vote on our poll, add photos, promote events, sports clubs and write sport competition results. Give a good reason yourself why East Groningen is a beautiful region. We ask the cooperation of all residents and visitors of East Groningen to help us with the promotion of this beautiful region.