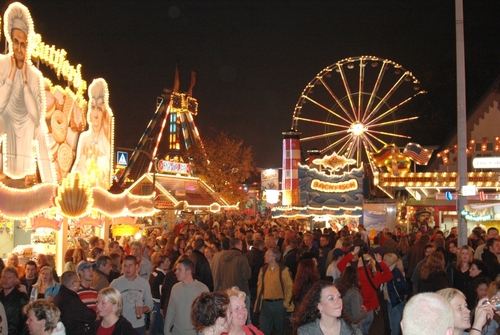 Gallimarkt
Wanneer?

Van 11 tot 15 October 2023

Waar?

Centrum Leer
Leer, Andere gemeente
Ga naar de website: gallimarkt.net
De Gallimarkt is een enorm evenement waar je als bezoeker je ogen uitkijkt! Er is kermis, markt en natuurlijk genoeg lekkers om te eten en te drinken!

Vrijdag:
22:00 Mooie grote vuurwerkshow boven de haven van Leer.

Zaterdag:
Gezellige sfeer met leuke kroegjes en de mooiste attracties.
Vooral in het donker is het een ware paradijs om te zien.

Zondag:
10.00 uur showman eredienst in de tent.
13:00 Verkoop tot 18.00 uur zondag in het voetgangersgebied en de winkelcentra van Leer.

Openingstijden:
Vrijdag, Zaterdag van 's middags tot 1 uur.
Zondag 13:00 t/m 18:00 uur.

Parkeergelegenheid
Er zijn een aantal parkeerplaatsen binnen de markt, die vind je hier:
- Port Road en op de Nessegelände
- Gaswerkstrasse (na kantooruren op de EWE terrein)
- Bgm.- eren Holtz Weg in EWE parkeerplaats en de parkeerplaats 3
- Pasen dock op de parkeerplaats 4 en de parkeerplaats 5
- Georg straat achter de politie gebouw
- Parkeren de BBS op de hoofdweg

De gehandicaptenparkeerplaats is beschikbaar op het gebied van balans-parkeren en in de BBS. 2

Speciale bussen
Voor Gallimarkt rijden verschillende speciale buslijnen van VEJ en Weser-Ems-Bus.
--- advertentie ---
Komende evenementen
Make a contribution
On the website Oostgrunn.nl anyone can contribute to improve the image of East Groningen and to let everybody know the beauties of the area. Visitors can respond to all subjects, give a review and share experiences. Also, everyone can vote on our poll, add photos, promote events, sports clubs and write sport competition results. Give a good reason yourself why East Groningen is a beautiful region. We ask the cooperation of all residents and visitors of East Groningen to help us with the promotion of this beautiful region.