NNTTM te Zuidbroek
Category:

Museums

Address:

Stationsstraat 5

Location:

Zuidbroek, Midden-Groningen
Ga naar de website: www.nnttm.nl
Het Noord-Nederlands Trein & Tram Museum (NNTTM) is gevestigd in het voormalig stationsgebouw van Zuidbroek (anno 1865).

In het museum wordt de uitgebreide spoorweggeschiedenis van Noord-Nederland uitgebeeld aan de hand van kostuums, maquettes, gereedschap, foto's, borden en modelbanen.

Het museum is elke zaterdag en zondag geopend van 10.00 tot 17.00 uur. Voor een groepsbezoek kan er ook buiten deze tijden een afspraak gemaakt worden.

Het museumgebouw is rolstoeltoegankelijk (hiervoor dient men de ingang aan de perronzijde te nemem).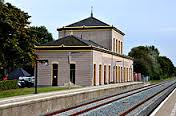 Choose a category
--- advertentie ---
Make a contribution
On the website Oostgrunn.nl anyone can contribute to improve the image of East Groningen and to let everybody know the beauties of the area. Visitors can respond to all subjects, give a review and share experiences. Also, everyone can vote on our poll, add photos, promote events, sports clubs and write sport competition results. Give a good reason yourself why East Groningen is a beautiful region. We ask the cooperation of all residents and visitors of East Groningen to help us with the promotion of this beautiful region.